Trimmers and shavers have now become part of cultural vocabulary as a result of the epidemic, and they are no longer merely necessary consumer gadgets. It is a must-have item right now since personal grooming has evolved from a need to an obsession among individuals.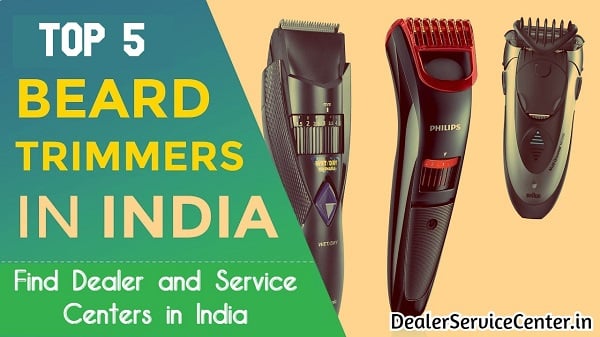 While COVID-related lockdowns prompted saloons and parlors to close, individuals began purchasing trimmers and personal grooming equipment, it appears that many people will continue to use these gadgets. During this period, we not only saw an increase in the number of men looking for the best trimmer, but we also saw e-commerce firms sending these gadgets in large quantities.


The majority of men either have no idea what grooming is or are afraid of it. We tend to overlook our shaving needs when juggling our hectic lifestyles. What's the end result? The scruffy, messy, disheveled look is a formula for disaster when it comes to date evenings. You'll need a decent trimmer to get rid of your unruly facial hair in a couple of minutes.
You may like to read: Top 10 Best TV Companies in India 2021, Find Dealers & Service Centers
Do you only want a beard trimmer or do you want to go into manscaping? You must specify either you want a beard trimmer, a trimmer, or a body trimmer that can handle both. It all depends on why you're purchasing.


If you're only interested in finding the finest beard trimmer for guys, certain trimmers may be more tempting than others, depending on how thick your mane is. As a result, you should give particular attention to the precise properties with respect to the shaver or trimmer you choose.


Now let's check out the best Shaver and trimmer which you should consider while you want to buy it.
1) Philips OneBlade Shaver and Trimmer
The Philips OneBlade shaver and Trimmer is one of the best-selling products. It's for men who enjoy grooming and, in particular, wish to keep a fashionable beard. The Philips QP2525/10 OneBlade Trimmer and Shaver can be used to fashion, trim, or shave, as the name implies. This shaver, unlike regular trimmers, does not shave near to your skin, preventing any mishaps.
The Philips QP2525/10 OneBlade Shaver and Razor is water-resistant and comes with three different lengths of comb with even trimming. According to Philips, the sophisticated cutter slides through the hair at a rate of 200 times per second in both dimensions. It may be used as a dry or wet trimming, thus it can be used with shaving cream or gel. The Philips OneBlade is ideal for guys who want the sensation of shaving with a traditional razor.
Features of Philips Trimmer and Shaver
Every time you trim your beard, the self-sharpening stainless steel blades softly rub against one another and sharpen themselves.
DuraPower technology improves power optimization for a longer-lasting trimmer.
Ergonomic design allows users a more secure grasp that is also easy to maintain.
A two-year warranty is included.


Buy Philips Trimmer and Shaver in India: Philips Trimmers Official Dealers and Showrooms in India
Repair Philips Trimmer: Philips Service Centers in India
2) Panasonic ER307
The Panasonic ER307 is one of the most costly models available in India from the Japanese manufacturer. However, the capabilities are given by such a beard/hair trimmer more than makeup for the price. There are 12 distinct trim options available, ranging from 0.2 to 1.8cm. There's even a fast adjust dial to make adjusting the length simple.


It achieves precision cutting with high-performance blades that are also washable. It has a corded and cordless function, as well as an ergonomic style that will appeal to a wide range of clients.


This is the trimmer you've been seeking if you require a powerful, rechargeable trimmer that can be used both with and without the cable. This trimmer uses Japanese blade technology and comes with stainless steel blades.


It has notable features such as an ergonomic S-curve design, a floating wide blade cutter, and a front height modification dial (with approximately 12 length settings) that make it amongst the best trimmers for men available. The pivoting head follows the curves of your face and cuts your beard appropriately.


Features of Panasonic Trimmer
You'll get a high-performance trim with stainless steel blades integrated with Japanese blade technology.
A two-year warranty is also available.


Buy Panasonic Shaver and Trimmer in India: Panasonic Trimmer Dealers in India
3) Havells BT9010
Havells promotes its goods using the same as the Ustraa company does: long battery life. The Havells BT9010 Quick-Charging Trimmer combines basic functions with fast charging and long battery life. The Havells BT9010 Fast-Charging Trimmer is estimated to last two hours after 90 minutes of charging. Havells uses a micro USB connection for charging, unlike other trimmers that employ a proprietary charging method.
In terms of characteristics, this device's head is broader than other trimmers, allowing it to cover a larger area while cutting efficiently. The titanium blades of the Havells BT9010 Fast-Charging Trimmer support a total of 20 different lengths settings.


Buy Havells Shaver and Trimmer in India: Havells Trimmer Dealers in India
4) Syska HT300
While we're talking about the greatest men's trimmers in India, we can't forget about Syska! This HT300 variant's stainless steel blades are rounded and skin-friendly, allowing for a pleasant and smooth touch with the skin. You may pick from 20 different length settings to create your own unique shaving experience! The built-in adjustable comb also provides a quick trim, which is especially useful when you're in a rush.
To obtain around 35 minutes of wireless use, you'll need to charge this trimmer for up to 8 hours. This trimmer comes with a built-in stand, allowing you can store it conveniently wherever in your bathroom.


5) Xiaomi Mi Beard Trimmer
Xiaomi's Mi Beard Trimmer is one of those items that makes you wonder what else the firm would introduce in India next. A trimmer with 40 length options and stainless steel blades is what we're looking for. It features a cordless battery that lasts 90 minutes, and a 5-minute charge provides you with 10 minutes of use. It's waterproof to IPX7 standards, and because this is Xiaomi, it also has a traveling lock.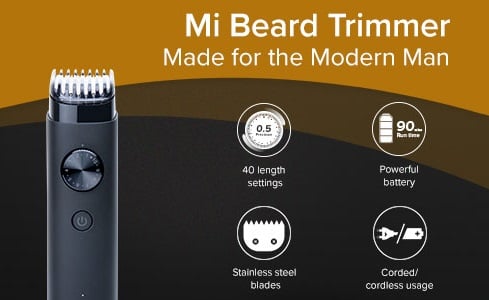 Conclusion:
With all that in the head, we looked at the top-rated and also most prominent electric razors as well as beard trimmers on the market today. We selected a few that will meet your needs based on the following factors: waterproofing, shaving gel options, price, number of blades, attachments, portability, ease of cleaning, performance, wired or cordless, and even smart functionalities.
Related Articles:
Feedback / Review